Top Agents & Masterminds Agree: Real Geeks is the Clear Winner
Customizable user-friendly IDX websites, powerful CRMs to connect your network, dynamic workflows & drip campaign templates, Facebook marketing tools, a growing mastermind community, open API, and Robin Geek AI -- our realistic Chatbot assistant to help with lead flow ... No other all-in-one platform compares to the power of Real Geeks at a fraction of the cost.
The only question is how many deals YOU will close.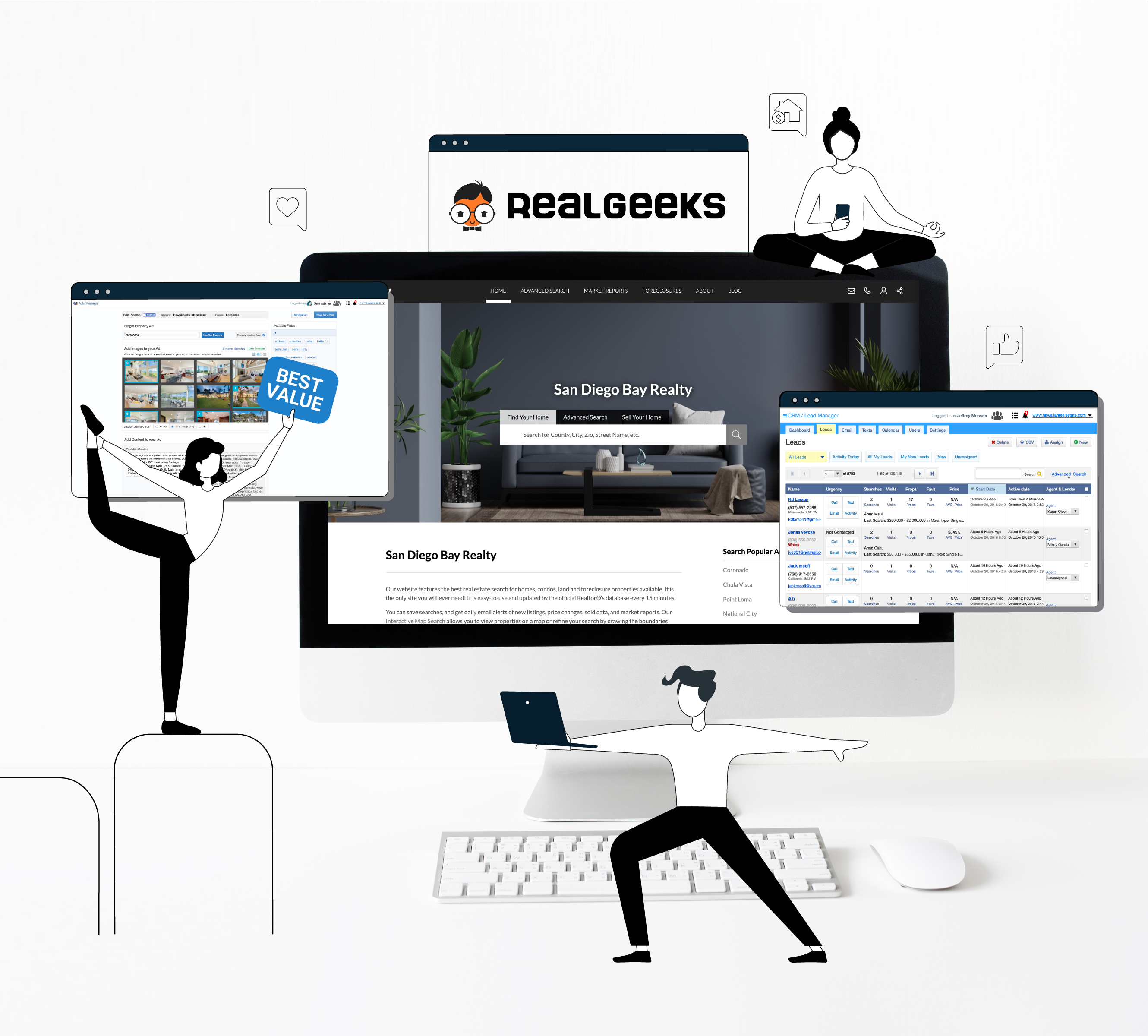 Rachelle Willhite of Best Choice Realty
We sat down with Rachelle Willhite of Best Choice Realty to learn how she maximizes the Real Geeks platform and her experiences with closing deals in the Pacific Northwest.

Welcome to the real geeks' new agent mastermind corner
Would you like to know what to say to address today's most common seller concerns?
Join us for Keeping it Real with the #1 real estate agent in Michigan, Jeff Glover.
We made a list of the top 10 seller concerns for this Spring 2022 market (which you'll need accurate answers to) when asking for an appointment or a signed listing contract. You'll get the answers to questions like... Why do I need to pay a real estate agent in this hot market? Why can't I just sell my home myself? Why can't I just pay you to bring me a buyer? Where will I move when there's not much for sale? Other real estate agents are willing to take less. I want to hire a friend or family member to sell my home. We need to finish a few projects before we put it on the market. And more...
Join us for this Keeping it Real with Rob Chevez, CEO of The CAZA Companies, a real estate and property management firm in Reston, Virginia.
Rob's passion for wealth-building inspired him to start a monthly real estate investment mastermind that has grown 17,000 members across 27 chapters.
He plans to take the network globally and grow it to over 100,000 members and help others create wealth and legacy through real estate. Rob launched The CAZA Group of Keller Williams Realty to help buyers and sellers make smarter real estate decisions that impact their bottom line with one of the most significant financial decisions of their lives.
Here are 11 articles written by industry pros on how to overcome objections, defend your real estate commission, and keep it in your pocket
View Article
One small lead form, one giant step for your business:
Craig tried chime, then came back to real geeks.
He tried it, so you don't have to.
Listen to Craig Schneider tell Todd Tramonte what he learned leaving Real Geeks for Chime. Spoiler alert, Craig is back at Real Geeks. Craig gives all the details on why Real Geeks is the superior platform and shares his best Real Geeks deal closing hacks.
Reunited and it feels so good!
This indy broker built his business on Real Geeks — then left it. Find out why he came back and is on track for a record year.
By Inman Content Studio
Craig Schneider runs a tight ship. His business, Norchar, has 29 agents right now, but only three staff. And he's one of them, joined by his wife Lus and an operations manager.
Schneider and his wife launched their Rochester, New York brokerage just over eight years ago. After some false starts, they selected Real Geeks.
"Like any new business owners, we wasted a lot of time doing a lot of the wrong things or chasing the wrong things in the wrong direction," Schneider shared. "At one point, I built my own website. And if you're ever considering that, don't do it. Even if you have $200,000, it's going to be irrelevant the minute you're done — and you're not going to build up a system that's as good as Real Geeks.
Schneider originally chose Real Geeks because it offered an all-in-one package where the CRM is integrated into the website. "That was the most impressive part of what Real Geeks offered: the ability to not only provide information out to an audience but actually capture their data if you provided enough value to them."
Another aspect Schneider appreciated was that Real Geeks is an open-source tech platform. "For those who aren't techie, that means they play well with others," he said. "They allow data to be transferred from their system to other systems, and then the same is true, they allow data to come into their system as well."
Tripped up by lead distribution
As Norchar grew, so did the need for effective lead distribution. And there wasn't a system Schneider didn't try.
"Some of my agents are doing 100% of their business off of my leads," he said. They implemented Round Robin but found the lead would just keep circling if no one moved on it.
Then they developed a digital version of the traditional 'desk duty' assignment, called Lead Shifts. Agents signed up for a block of time in which they would receive all the incoming leads. But that, too, proved a problematic and far too manual process.
Then Schneider hired a few ISAs but found the right temperament for sales calls wasn't the same person who wanted to sit at a desk all day.
"I also realized I was outsourcing the most important opportunity to create a connection with a client. So we stopped using ISAs."
Then Schneider found a tool he wanted to incorporate: Slack. The messaging platform solved several internal communication issues for the brokerage, but configuring it with Real Geeks proved to be too much. That, on top of some MLS integration issues, proved to be the last straw. Or so he thought.
He came. He saw. He tried it. Then he went back to Real Geeks.
Scheider is nothing if not thorough. You name a platform, and he explored it. He moved away
from Real Geeks and tried out every competitor out there, testing for ease of use, robustness of performance, and responsiveness of support. But he found many were outsourced to the point where customization was beyond possible.
"There are some great platforms out there," he noted. "But I think that Real Geeks is the best investment I have in my business. The street price for Real Geeks is unbelievably low in contrast to any platform that's even similar. And I'm at a point in my business where I'm willing to pay more to get extra features."
In all his experience exploring other platforms, Scheider came back to Real Geels with a wishlist of what he wanted. And happily, he was able to work in concert with the team, including the primary architect Kevin McCarthy, who is also the CEO.
"What I love about Real Geeks is that I can make it as complex as I want to, but I also have the freedom to keep it as simple as I want to. And I'm still an 'infant' with the platform. Real Geeks is continuing to grow and provide new types of awesome services. If you're not using them, there's no value in them. But figure out ways that you can make them work into your system and there's no stopping you."
Craig Schneider has been a driving force in Rochester's new construction residential real estate sector for more than 15 years.
Craig was a Real Geeks user but left after frustrations with building his brokerage around the website and CRM.
He experimented with using many different platforms for his business that eventually didn't work out either. He discusses what he was looking for, why some of the platforms he tried didn't work for him, and why he eventually returned to Real Geeks. PLUS, how he's using it now! Join host Todd Tramonte as he dives into how Craig has maximized the Real Geeks platform for lead generation and distribution for his entire team with a very high return on investment.
This year, focus on giving back more to the business, and I believe the business will give more back to you with all my heart.
View Article
what our clients love about real geeks
"This website has changed the landscape of my business beyond what I could have expected. The capabilities are endless. The support team is prompt and polite and knowledgeable. We have finally ironed out all the kinks and my site is running like a powerful machine. The CRM is easy to use and has been a great way to keep track of everyone on one site."
"I have been a client of Real Geeks for about two years now. I have used at least 4 different CRM platforms in addition to Real Geeks. The Real Geeks platform is by far the best value in this space. The number of services included in the monthly fee is unbelievable. As a single agent you can not find a more robust CRM service platform for the cost. Quite frankly, if they were looking for sales reps to sell this platform I may consider ending my real estate career to sell for them. It's just that good."
"We have been with Real Geeks for short period of time but it has been a worthwhile experience. The support staff is awesome. It doesn't matter how insignificant the question they always acknowledge it with professionalism and speed. I love their videos and weekly tips. Their mastermind discussions are awesome. We are very satisfied with the CRM software and look forward to years of being a Real Geeks."
Get a Demo from the Experts:
Real Geeks All In One Platform
CRM LEAD MANAGER
Lead Routing
Texting
Lender User
Live Feed
Email Autoresponders
Log Calls & Notes
SMS Autoresponders
3rd Party Lead Integration
Prioritize Leads' Motivation
Follow-up Features & Reminders
Agent Activity
Advanced Search Filtering
Social Profiles
Track Lead Activity
Lead Activity Triggers
Lead Capture Notifications
Lead Source Tracking
View All Users Activity
Email Integration and Sync
Email Autoresponders
Mobile Optimized
Importing & Exporting
SMS Templates
Email Templates
Accountability
Dashboards
Automated Email Drip
Email Blasts
Idle Lead Reassignment
Workflows
Real estate websites
Mobile Optimized
Built For High Conversion
Fully Responsive
Coming Soon Landing Pages
Clean, Professional Design
User-friendly CMS
Fully Editable Pages
Fast Loading
Search Engine Friendly (SEO)
Built-in Blog
Blazing Fast Search Results
SSL Support (HTTPS)
Polygon Map Search
Agent Landing Pages
Property Landing Pages
Market Report Landing Pages
Robust Front End Design Editor
IDX Updated - Every 15 Minutes
Property Valuation Tool
Property Listings on any Page
Google Analytics
Integrated IDX Solution
Interactive Map Search
Custom Capture Forms
Saved Searches
Market Reports
Sold Search and Data
Daily Property Email Alerts
Indexable IDX MLS® Listings
Easy-to-save Multiple Search
Easily Save Favorite Properties
Easy-to-use Property Search
Fully integrated IDX not Framed
High Converting Lead Capture
Multiple "Call to Actions"
and much more...
Marketing Tools and Services
Facebook Marketing Tool
Facebook Marketing Service
Craigslist Poster
Google AdWords PPC(Real Leads)
Automated Email Drip
Automated Texting
3rd Party Integrations
BombBomb
Trulia
Infusionsoft
Top Producer
Wise Agent
PieSync
Realtor.com
Gmail
Mojo
LionDesk
Altos Research
Zillow
Zapier
MailChimp
BoldLeads
Email Sync w/ Multiple Providers
Add Robin To Your Team
Are you struggling to keep up with lead flow? The Real Geeks AI assistant is here to help.
Internet consumers are 100 times more likely to be reached 5 minutes after an inquiry than 30 minutes. Leads can come in at any time, even when showing a home or closing a deal. You don't have to worry about any new leads slipping through the cracks with Robin.
Connect Your Network
The Real Geeks CRM App makes it easy to stay up to date and connect with your clients while on the go.
Track lead activity with instant push notifications, stay organized, and quickly contact leads all within this easy-to-use application. To learn more about the CRM Mobile App, click here
Connecting has never been easier
Build relationships, showcase your personality, and educate your clients with Video Messaging.
Send video messages from the CRM via email or text. Deliver a video message to multiple contacts at once in an eBlast. Or distribute video messages on an automated basis by adding them to Workflows.
We are excited to welcome back one of our favorite guests, Lisa Chinatti, for this episode of Keeping It Real. Lisa is a top producer based in Westford, MA, with over ten years of Real Estate experience.
The market is hot right now, and we see a lot of areas with low inventory. Lisa gives you her tips and shares what she and her team are doing to maintain their seller lead flow. Join host Frank Klesitz, CEO of Viral Marketing, as he and Lisa dive into generating new seller leads today.
How to Convert More Online Buyer and Seller Leads to Appointments w/ Anna Krueger
If you're spending money to generate online buyer and seller leads, and you're not happy with how many people respond to you or book an appointment, you'll learn how to improve your results.

You'll learn how to get the lead into your CRM, how many times to reach out, exactly what to say, and the marketing that's necessary to go out to back up your phone calls.

Join Frank Klesitz and inside sales coach and trainer Anna Krueger this week to learn how to convert more online buyer and seller leads to appointments!
If you are looking for a timeless way to generate seller leads that will consistently and predictably get people to call you who are interested in selling their home, this is it.
Frank Klesitz, CEO of Vyral Marketing, will walk you through the process from start to finish.
In this episode of Keeping it Real Frank Klesitz shows you how to write and mail the "Golden Letter" for seller lead generation. Yes, an actual USPS letter using a real stamp to put in the hands of possible sellers.
This is a personal message, in a #10 envelope without your logo on it (so it gets opened), that you send to the neighbors of a house that just sold, letting them know you have a buyer for them too. In it, you'll ask them to call you to find out what your buyer would pay for their home.
Of course, you'll only write the letter ethically by representing a real buyer, either a retail buyer in your CRM or an institutional buyer who provides instant offers. There isn't any buyer personal information in the letter.
Join us for this episode of Keeping it Real and you'll learn how to pull the mailing list, format the mailing list, write the letter, and mail it using a mail house that will print, stuff, and mail them for you at the cost of about $1 a letter. The cost can get down to about $0.85 a letter at volume, and you always mail first class pre-sort (never standard/junk mail rate).
We also go over how to get these buyers, how to get a commission agreement with the sellers signed, and how to handle the inbound calls.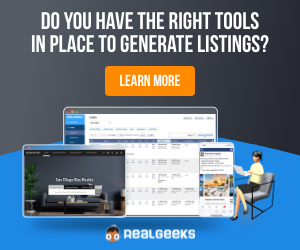 The Optimal Economic Structure for a Small Real Estate Team w/ Anthwon Thomas
Anthwon will share his agent splits, staff compensation structure, marketing budget percentage, and overall economic model he followed (along with adjustments to it and why) while scaling up to his success today.
You'll learn how he minimized his risk to now sell 120 homes a year profitably with three agents with four support staff. Each agent sells on average 42 homes.
Your New Customers are Waiting!
Learn from the best: tune in to keeping it real